HIGHER-GUIDED READINGS AND COUNSELING

| ENERGY HEALING | CHILDREN | ANIMALS |
| MATERNAL INFANT BONDING THERAPY & HEALING CHILDHOOD ASTHMA |
Love Is The Way, Elizabeth's book

Elizabeth works primarily with issues that arise around spiritual and emotional growth, offering intuitive readings and follow-up, helping you to integrate and best use the information brought through. Working in the space where higher Self meets the voice of Spirit, accessing your guides and hers, she is able to see a specific question or challenge in the larger context of your evolution, as it presents an opportunity for healing and growth. In general, she will help you bring to consciousness that which is already within you, to make it your own.

This work exists to support your spiritual unfolding, but Elizabeth will almost always ask for anything that YOU ask for, and will receive whatever it is in your highest good to know in relation to your question. She has yet to encounter silence.... The work is not predictive and cannot help you with purely material issues. But the invitation to grow and to heal comes in many forms and it is often through the interplay of the concrete and the spiritual that transformation occurs.

Elizabeth has received and shared guidance on things as diverse as the
spiritual state of land, housing, career choices, community, health issues,
relationships, unexpected life changes, and building family.

Sometimes one reading is all that is needed; in other circumstances there
may be a follow-up after a few weeks. Some people work with Elizabeth and the guides on a regular basis, often weekly, over time in order to stay in touch with the guidance that helps them move forward most clearly on their path.

There are several steps to an initial reading. It begins with a brief (15 -30 minutes) telephone conversation where you share your questions. Then, generally within the next week, Elizabeth will receive and transcribe the reading for you. Finally, you will talk again with Elizabeth (in person, over the phone, or on Skype) about the reading and its implications, how you can best use the information that has been channeled on your behalf. It is good to plan an hour and a half for this session. A transcript of the reading is available electronically.





"Elizabeth helps make sense of pounding soul questions your heart is yearning to answer. She is magic and down to earth, with insight that flows through her being with grace and ease. I have worked with Elizabeth for over four years. The readings have been enlightening and helped me move through fear, doubt and many painful places in my life. I am grateful!"
---JC , Arizona

"If you are looking for someone to give you an answer or tell you what to do, then Elizabeth is not for you; there are no magic tricks involved. Looking back on decisions I've had to make, my choices are clear and obvious in retrospect, but they were muddled in the moment. Over the years Elizabeth has invariably helped me move through these times to the clarity that I had inside of me the whole time. She has respectfully seen my deepest longings and then provided a light for me to see the path. I have felt always safe, always comforted and always loved in her care. And, she helped me to dare and to have the faith to step into the most amazing life, the life I have wanted."
--AB, Uganda

"I've had the pleasure of working with Elizabeth on a couple of occasions.
She helped me reconnect with my teenage daughter who had distanced
herself from me. After Elizabeth did her work, (and gave me some good tools to work with) I must confess, both my daughter and I have been enjoying a healthier, happier relationship. I do believe that because of Elizabeth, we've been able to turn
things around 180 degrees..., and we seem to understand one another on a whole
different level than before." Thank you Elizabeth xox
---NA, Washington

"In my spiritual life I have come across a bunch of weird spiritual
channels whose channelings left me cold and did nothing for me. So much
so that when I hear the word 'channel' I think, "Uh oh, watch out."
Then I have had the privilege of running into channeled material like
'A Course in Miracles' which changed my life. So there are bad channels
and good ones too. In the case of 'A Course in Miracles,' God made a
guarantee of authenticity by choosing Helen Shuckman, a Jewish- raised
agnostic, to channel Christian material with which she was
intellectually at odds. Elizabeth West is in the Helen Shuckman league.
She, too, has a past as a leftist and gourmet restaurant owner very
much at odds with what she is receiving now. The personal channeling
that she did for me was accurate, touched me deeply and has changed my
life"
---FG, Spain


Available in person and occasionally at a distance, Elizabeth uses a number of hands-on energetic modalities to promote healing on many levels, increased overall well-being, relaxation and access to deeper self-awareness and care. As a Reiki master, Elizabeth is able to attune others to Reiki as well.



"Elizabeth performed hands-on Reiki on me to support my healing from hernia
surgery. Reiki was given both before and after surgery, and the effects
combined with prayer and diet were wonderful. Pain was reduced and swelling
decreased very satisfactorily. Most noteworthy was that although I am 69
and might anticipate slowed healing, I was back in the fitness center on the
ninth day after a three and a half hour surgery!"
---ER, California



MATERNAL INFANT BONDING THERAPY
Deepening the bond between mother and child,
Helping and healing childhood asthma
Developed by psychologist Tony Madrid, Maternal Infant Bonding (MIB) Therapy offers a simple, elegant and efficient means to repair instances of broken bonding between mother and child. Broken bonds often occur when something comes between a mother and her emotional or physical availability to her child during pregnancy, birth and the child's first year. Things like a death in her family, loss of a partner, economic hardship, illness—of either mother or child—, Caesarian birth, and complications with the pregnancy can all disrupt the ideal bonding process and result in emotional distance, behavioral challenges, and surprisingly, childhood asthma. Adopted children by definition have suffered from a situation where bonding with their birthmother has been broken. MIB therapy usually involves one to three sessions with the mother and often yields dramatic results, particularly in cases where the child suffers from asthma. Read more about MIB therapy here.

MIB sessions are done in person.



"I wanted to tell you of the wonderful shift I felt in my relationship
with my daughter. You know how she is not the kind of child who wants
to snuggle up on the couch. Well, I got home from my time with you and the
first thing she said was, "Mom, I want to snuggle on the couch with you." That was freaky. I waited to see if this was a one time deal. On several other occasions, she has requested time with me. She is also telling me that she loves me on a much
more frequent basis. In terms of her health, she is all better now. I'm
not sure whether that is due to the hypnosis or the antibiotics and
steroids she was taking, but I would be willing to say that the hypnosis
played a part in her improved medical condition. I can't exactly explain what happened during the session, but something happened. It was a great experience that has opened me up to other possibilities that might exist."
---BL, California
"As an adoptive mother of a traumatized toddler, Elizabeth West first introduced me
to the work of her mentor, Tony Madrid, on Maternal-Infant Bonding and repair. The
process of undergoing hypnosis and the stages of bonding with my child had an
immediate shift in how protective I felt about him, and her work with some of my
fears and blocks helped clear the way for me to continue the processing of attaching with my son."
---TT, California



For Elizabeth it is a particular joy to work with parents on behalf of their children. Because of their openness and flexibility, it is possible to actually facilitate important healing and movement for kids.
Many children coming into the world at this time are struggling to find balance in a larger field that is neither sympathetic nor attuned to their vibrations. The medical establishment diagnoses increasing numbers of kids and approaches their issues as manifestations of pathology. Working directly with a child's energetic field, Elizabeth is often able to unearth karmic, spiritual or emotional factors which are impediments to the child's happiest unfolding. From there, she is guided to assist the child in a variety of ways that might include moving and holding energy directly, providing parents with tools-- from nutritional advice to practices-- that will assist their child, and using kinesiology to create flower essence remedies that support balance and healing.
Most work with children is done remotely, with regular telephone communication with parents.



"Elizabeth has been a great asset for me and my child's well being. She
has worked with my daughter over the course of five years, and miraculously been able to tune in to my daughter's higher consciousness, and help her in ways that I've been unable to touch as she has grown. With my daughter's strong personality, it has been an amazing relief to find a way to connect and guide her in a safe and positive direction. I strongly recommend Elizabeth's abilities for
guidance."
---BK, California
"Elizabeth has done distance energy work and a reading with my son, and she provided a written interpretation for us. One of the most valuable parts of her work was that she gave us specific suggestions to move forward with the reading information she got, which my son has really responded positively to. Elizabeth has a very calm and perceptive presence that made me always feel safe and heard. Since she comes from a similar place as an adoptive mother, she really gets how I feel, because she has experienced similar feelings and issues herself."
--TT, California



Pets pick up a lot from their humans, and in this time of transition and uncertainty, many suffer from illness and emotional distress which can be addressed and ameliorated energetically. Elizabeth works directly with the animal's energy to learn the nature of the underlying problem, and then with the human as well to create relief and healing.
Work with animals can be done at a distance.

"Our cat Mitzi was suffering from extreme terror, constant nervousness and
distemper. She seemed to often hallucinate dangers and would run from room to room, lashing her tail and arching her back and growling. She was also unable to co-exist peacefully with our other cat.
One afternoon, during a particularly deep meditation with Mitzi on my lap, I became aware that there was a suffering entity living inside her, "using"
her body. I called Elizabeth on a recommendation from a good friend and she tuned in with the situation. She confirmed that there were multiple entities living within Mitzi's body and right away helped them find their way out and
to the light. The effects were immediate and long-lasting.
By the next day, Mitzi was a different cat! She slept peacefully, didn't
flinch when touched and no longer seemed fearful, only a little disoriented.
Following Elizabeth's advice, I fed her fish and engaged in particularly
"cat-like" activities with her, to reorient her to being Just a Cat. She
remained in her new, relaxed state for the rest of her life.
I am so grateful for the wonderful work Elizabeth did with our cat Mitzi! She gave her back a life of peace and comfort, which was such a great relief after all Mitzi's suffering."
--ASR, Hawaii

"My family & I have called on Elizabeth on numerous occasions for
ourselves and our furry family members. Since our dogs don't speak directly to us we find that we have tremendous anxieties about their health, and Elizabeth has been able to help alleviate those concerns and help us direct our approach to the health & welfare of our treasured family members.

When receiving readings from Elizabeth for our family we found that she was able to explain situations and dynamics on an energy level that clarified why certain relationships were so difficult. Along with the telephone readings, Elizabeth also provided us with written readings that have been extremely helpful to go back to even years later. I found that when I received the reading on the phone there were many things I either didn't hear at the time or I had forgotten because there was so much information.

I find Elizabeth to be professional, clear, and concise. She not only provided helpful crisis information but information & guidance that will be used over my entire lifetime." Blessed Be,
---TB & Family, Mexico

LOVE IS THE WAY:
DAILY OFFERINGS FROM THE GUIDES FOR LIVING LUMINOUSLY
BY ELIZABETH WEST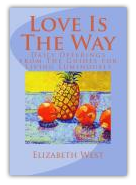 Paperback, 414 pages, 7"x10: Buy Book Now
Kindle: $5.00 Buy Kindle Version
PDF: Free Request PDF Version
The Guides, who describe themselves as "your heart's deepest love and your soul's greatest wisdom," offer a year's circle of daily lessons, contemplations, practices, exercises and inquiries to support and assist those who are on the path to realizing and embracing their own highest nature. In the context of these practical and specific lessons, they ask that we soar, that we reach for our most profound gifts, while at the same time reminding us never to abandon our connection to nature and to our vital lives here on Earth. Their basic message is quite simple: we are all inherently divine, and our hearts--often veiled or shuttered--are the seats of unfathomable Godforce. They teach us to open to the vast capacity to love and be love which we already possess, to learn to bring that transcendent love into the mundane, to infuse our daily grind with celestial light, to live luminously in each breath we take.
The way is not always easy, though, and The Guides are the first to acknowledge that. They are there with reassurance and practical advice when fear, habit, reaction and self-doubt obscure the path, and they extend encouragement and inspiration when we are stuck.
"Love Is The Way" is both a hands-on manual for living with greater joy and freedom in this world, and an introduction to The Guides' understanding of the cosmos and our place in it.
"Every morning as I begin my day I seek guidance from the daily offerings in Love is the Way. Each reading provides support for my personal work of the heart, gently reminding me to stay with that work, providing suggestions, encouragement, and practices in a loving way. The words resonate with my inner knowing and I am grateful for the opportunity to learn how to live the best life that I can." ~ Annie, TN

The Guides' readings have always been made available without charge. The messages are free; it is—as always-- the form that carries a cost. If you would like to read the book in a PDF format, please don't hesitate to ask for it; I will happily send it your way. If you find that it is meaningful and useful for you, I ask you to consider purchasing the paperback or Kindle version. Thank you.